Chiropractic Care
When you visit Snowmass Chiropractic Center, LLC, you'll discover we're not just another chiropractic practice. We don't just address your symptoms, we focus on your unique needs, digging deep to find the source of the problem and correct it. Utilizing manual adjustments, additional therapies and modalities, along with rehabilitation and exercise, allows us to make a positive impact on your health.
NEW PATIENTS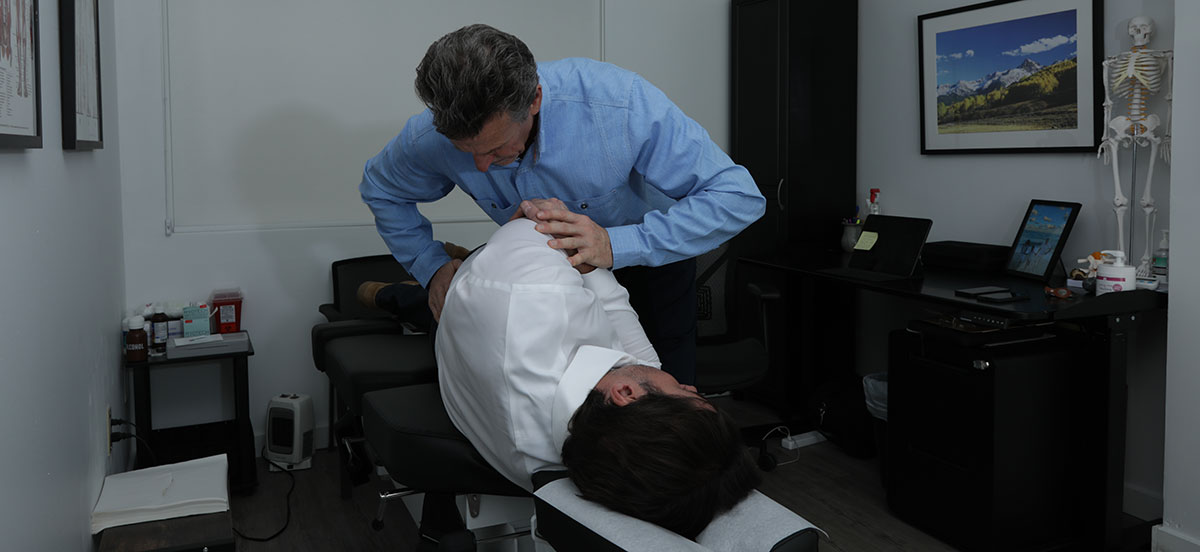 Natural Care for Better Health
As people learn more about natural ways to achieve better health and wellness, chiropractic care has become the choice of many. A conservative, non-invasive approach to whole body healing, chiropractic provides positive outcomes for most conditions.
Dr. Bolger takes the time to listen to his patients to determine the cause of their problem. In the case of a traumatic issue, he'll outline a plan to get the tissues healed and restore proper function.
In a chronic case, he addresses the fact that a patient's bones are not in the right place. This causes poor structure, function, and movement in the joints, leading to degeneration. Our job is to restore the structures to their proper positions, get them back into alignment, and reestablish proper biomechanics. Once this is accomplished, our bodies can heal as they're designed to do.
Benefits of Chiropractic
Chiropractic is healthcare that's focused on you. A natural, holistic, and conservative approach, it's designed around keeping your nervous system in good health. When there's a problem with your nervous system, it creates a blockage or restriction between the spine and the brain, disrupting communication within your body.
Our job at Snowmass Chiropractic Center, LLC is to identify joint misalignments, specifically in the spine. We assess joint movement to see if it's moving as it should. Chiropractic provides the tools to determine what's wrong, how to correct it, and how to keep it from happening again.
Adjustments restore proper motion to the affected joint. Joints get their nutrition from the movement of fluids within the joint—the better your joint moves, the healthier it is. Healthy joints allow the nervous system to function optimally, and relieve your pain.
Here are some of the conditions we are able to address:
Headaches/migraines
Neck pain
Shoulder pain
Knee pain
Back pain
Sports injuries
Spine disorders and disc issues
Spinal stenosis
Scoliosis
Failed back surgery
Auto accidents and work injuries
And more
Therapies and Techniques
We use various techniques and therapies to give you the best possible results. These techniques include
No matter what combination of techniques and therapies are part of your plan, you can rest assured it has been customized for your particular needs.
Additional therapies may be used in combination with chiropractic care, such as
Dry needling
Interferential therapy
Electrical stimulation
Get Started Today
We offer a natural, holistic treatment that sees the whole you! It's time to stop ignoring and covering up your problems. Let's work together and get to the source, once and for all. Contact us to make an appointment and get the care you deserve.
CONTACT US


Chiropractic Care | (970) 710-0110